Are you searching for an affordable road bike that's super comfortable to ride?  If so, you will be very interested in learning more about the incredible features that the Diamondback Century Sport has to offer.
When it comes to selecting bikes on a budget, it can be extremely difficult. People often end up compromising on quality to save money.
However, this review will show you that you can have amazing riding experience, while still avoiding having to spend a fortune.
We've delved deep into the DB Century Sport and created a complete review to let you know about this road bike.
The idea was to lay out all the information for you so that you can save much time and hassle researching for yourself. Take a look below to learn more about this bike.
Overview of Diamondback Bicycles Century Sport Road Bicycle
| | |
| --- | --- |
| Frame Size | S – 52 cm / M – 54 cm / L – 56 cm  / XL – 58 cm / XXL – 60 cm |
| Frame Material | 7005 aluminum frame |
| Bike Type | Road Bike |
| Speed | 16 speed |
| Brakes | Tektro Caliper Brakes |
| Tires | 700c x 23c |
| Rating | 8.4/10 |
| Brand | Diamondback |
| Pros | Ergonomic design, Affordable price, Shimano Claris group set, over 300 lbs weight capacity |
| Cons | Heavy for some, Tires is not perfect for some |
| Summary | Budget Road bike for entry level rider who want comfortable ride. |
| Where to Buy | Check On Amazon |
Who Is the Bike Designed for?
People on the search for a bike that won't break the bank, yet still comes with the necessary features for experiencing enjoyable rides.
We consider it to be an entry level bike, which provides you with everything you need to have fun riding.
There are a variety of size options available. As a result, it's a fantastic fit for anyone between the heights of 5 foot to 6'4".
Furthermore, we liked how this is a unisex bike that both males and females can enjoy.
The design structure makes it incredibly comfortable, and the color lets you ride around in style.
---
Features Review of Diamondback Century Sport Road Bike
Equation SE Wheels
Diamondback has implemented their very own Equation SE wheelset into this bike. This means that you can ride with Kenda K196 700x23c tires.
As a result, the overall smoothness of riding is vastly increased. The traction is boosted which provides a strong sense of grip on the ground for a very fun ride.
The tires were built to last, and be comfortable to ride with. With a strong sense of grip to the ground, you're given a massive confident boost to take various corners at faster speeds. You can experience higher-speed riding using these tires as they are great at avoiding punctures and damage.
Moreover, this wheelset is also incredibly lightweight too.
Rims
There are Equation R double-walled rims that are 28h in size. What's the benefit of double-walled rims?
They work effectively to increase the overall durability of your tires. Therefore, if you're thinking about using this bike on surfaces that are quite rough, you can feel assured in knowing that the rims will have you covered.
Diamondback has ensured that these rims work to prevent the tires from being damaged, while also making your rides more comfortable. Once many customers have experienced the benefits of double-walled rims, they never want to turn back.
The stability they provide is fantastic, especially at the higher speeds.
Brakes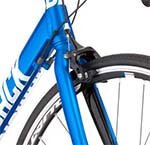 So, we've established that you can ride around on this bike more securely at faster speeds – but how does it fare when it comes to braking?
This bike uses a caliper braking system. We found these provide you with a ton of braking power, simply by squeezing the brake lever. Therefore, you can feel safe in knowing that, even when you're traveling at high speeds, the brakes work reliably to help you slow down.
Frame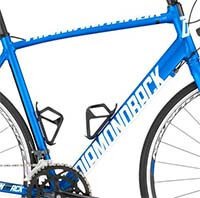 The frame has been created with a unique ergonomic design. This is a result of the head tube being taller. Essentially, this design causes your back and neck to be protected from the stresses that occur from riding.
So,  the frame is a major factor in enabling you to ride comfortably on this bike.
Furthermore, the aluminum frame is 7005 and has been completely butted. As a result, you can expect it to feel both stiff and lightweight. Riders love this combination as it leaves you with a frame that's very responsive, that can also do well in tight cornering situations.
Gears
You get to utilize a Shimano Claris Groupset system that lets you have complete control over the 16 speeds available.
The range of gears on offer means that you always have plenty of options to select the right ones based on your riding conditions. Regardless of whether you're going downhill, uphill, or on a smooth flat surface, picking the correct gear is always easy and smooth.
We found that you can carry out gear changes with incredible speed and smoothness.
Design
We found the overall design of the DB Century Sport to be heavily focused on your comfort. Therefore, it has ergonomic features built into the design.
Even after riding for many miles, the common fatigue effects on the back and arms are minimized with this bike.
---
Pros & Cons Of Century Sport
Pros
Comes with water bottle cages installed
You can adjust the bike to fit your height
The affordable price makes it perfect for beginners
Gear system is versatile and incredibly smooth to use
The color and design create a very stylish visual appeal
Has an impressive maximum weight capacity of over 300 lbs
It has been ergonomically designed to provide comfortable rides
Comes with reliable Shimano group set which is great for long distance rides
Cons
Some find that the tires need to be inflated fairly often
The weight is just under 23 lbs, which may be a little too heavy for some riders
Since it's primarily a comfortable bike, the aerodynamic features may feel lackluster for some
DB Century Sport Features at a Glance
The bike weighs about 22.8 lbs
The frame is constructed with 7005 aluminum
Tektro dual pivot caliper braking system
You get to choose between 16 speeds
The tires are Kenda K196 700x26c
The crankset is an FSA temp compact one
The fork is a Diamondback Podium Performance made with aluminum
Diamondback Equation SE rims are available on this bike
The hubs are made with aluminum
There are 14-gauge stainless-steel spokes
Shimano Claris derailleurs are used on the front and rear
The shifters are also by Shimano Claris
The handlebars have a DBR drop bar design
An aluminum Diamondback stem is fitted with this bike
The tape & grips and DBR Race Tape quality
You're able to use Tektro R312A brakes
The saddle and seat post are both made with Diamondback Performance standards
FAQ & Answers
Question: What is the weight of this bike?
Answer:

The Century Sport weighs 22.8 lbs
Question: Is this bike suitable for off-roading?
Answer:

This is primarily a road bike, and that's where most of its benefits can be experienced to the max. Having said that, you could still go off-road with it. Although, it wouldn't be as smooth of a ride compared to riding on the road.
Question: Does the bike come with a kickstand?
Answer:

No, there is no kickstand available with this bike.
Question: Where is the bike manufactured?
Answer:

It is manufactured in China
Question: Can this bike be used for racing?
Answer:

Due to the focus on comfortable riding, the aerodynamic features on this bike are lacking. While you can still ride it at high speeds and compete in races, it is mostly recommended for longer, endurance style riding.
Buying Advice
Diamondback delivers this bike to your address around 85% put together. Therefore, you will have to spend some time assembling the rest yourself before you can ride it.
There are instructions included with the order which are pretty easy to follow. In addition to the instruction manual, they've also made sure to include all the parts, as well as the tools that you need to build your bike.
They have also gone as far as to create special YouTube videos where they demonstrate precisely how to assemble the bike. The parts that need putting together include the front wheel, seat, handlebar, and pedals.
Those who don't feel confident in their building abilities don't have to stress about this process. You can simply take the bike down to your local bike shop, and they'll do it for you. Keep in mind; this will come at an added cost.
Final Verdict
All in all, we found the DB Century Sport to be one of our favorite budget-friendly bikes. It proves that you don't need to spend thousands to ride a quality bike.
We recommend it for people who want to enjoy long, comfortable rides. As we mentioned above, the aerodynamic features just aren't there. So, people looking to compete in races may have a hard time with this one.
For the more casual rider, the speed available will be more than they can likely handle.
If you're just starting to get into road bikes, this bike is one of the best budget road bike that you'll come across. It's comfortable, speedy, comes with many gear options, and has an awesome stylish design to it.
Hopefully, our review has provided you with some valuable insights into this bike. Be sure to consider all of its features, pros, and cons before committing to a purchase.
---
Related Bike Reviews You May Like
Tommaso Imola – Budget Road Bike
Updated: 14th August, 2019