We all love commuting on city streets and paved roads. Although, is there any fun without a bit of adventure? Well, if you have that biking passion and want to explore some unpaved roads and trails, Diamondback Haanjo Comp is designed just for you.
Overview of Diamondback Bicycles Haanjo Comp Gravel Adventure Road Bike
| | |
| --- | --- |
| Frame Size | SM – 50 cm / MD – 53 cm  / L – 56 cm  / XL – 59 cm |
| Frame Material | Butted aluminum frame |
| Bike Type | Road Bike |
| Speed | 11 speed |
| Brakes | SRAM Hydraulic Disc Brakes |
| Rim & Tires | Tuebeless Rims & 700x40c tire |
| Rating | 8.2/10 |
| Brand | Diamondback |
| Pros | SRAM drivetrain, Carbon gravel ready fork, Endurance geometry, Kenda tires |
| Cons | Uncomfortable Saddle |
| Summary | Gravel Adventure Road Bike for a Mountain Rider |
| Where to Buy | Check On Amazon |
Who Is the Bike Designed for & Suggested Sizing?
The strong and lightweight aluminum frame makes the bike easy to maneuver even for a beginner.
Made from 6061-T6 butted aluminum, Haanjo Comp is a great choice to those who look for strength and durability.
The bike is equipped with quality components to support the rides on unpaved roads and gravel. Therefore, the bike suits even for a trail biker.
This bike is a good option for long distance riders as the frame is designed to keep the riding position upright.
Finally, the 11-speed SRAM drivetrain gives plenty of gears for riding uphills. Hence, the bike is suitable for both trail and city riders.
---
What Features Does Diamondback Haanjo Comp Offer to The Rider?
Frame Construction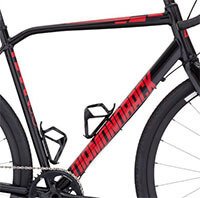 Bikes are designed to meet the requirements of the rider. For example, a road bike is built to perform on city roads whereas a mountain bike is preferred for mountain trails. Be that as it may, a road bike has certain restrictions and sometimes it won't allow you to explore the unpaved roads. If that's the case, DB Haanjo Comp road bike might be the companion you have been looking for.
Crafted with 6061-T6 full butted aluminum, Haanjo bikes frame is built to last and is super durable. Added to that, the endurance geometry of the frame makes the bike a performer on both city and trail roads. The frame absorbs the stresses and abuses from trails and in return provides you a smooth and comfortable riding experience.
Riding Comfortability
What is your top priority when you're purchasing a bike? If we both are on the same page, our answer will be the riding comfortability. However, the comfortability can depend on several aspects such as the riding posture, seating position, and rider's height.
To find the perfect posture on the ride, you should look for a bike that would fit your height and weight. With four different sizes to choose from, you'll never have a problem finding your Haanjo Comp Bike. Also, the wide and dropped handlebars offer great handling capabilities for improved comforts.
Brakes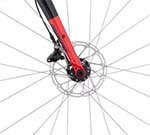 Okay, This bike is well built and offers great comfortability. Though, what about its brakes?
Well, the bike comes fitted with hydraulic disc brakes for enhanced control and safety. You can trust your companion no matter where you take it.
The SRAM's Apex 1 hydraulic disc brakes ensure reliable and precise breaking when it matters. As a result, whether you're riding in a dry or wet condition, the brakes are predictable and will keep you in confidence at all times. A brake that works in all-weather conditions, it's plus compared to other bikes in the same price range.
Components
Most manufacturers in the market compromise on quality components to keep the price low. This results in either poor performance or declined comfortability while riding the bike. However, you will have no concerns over the quality of components equipped in Haanjo bike.
In fact, the bike owners had agreed to the fact that Haanjo bike would sell for more price with the quality of components on it. The bike comes equipped with SRAM's components which offers greater durability and strength for lasting performance. The components are worth every penny you spend on this bike.
Handlebar
As mentioned above, your posture on the bike matters a great deal. Seating isn't the only thing that describes the riding comfort. You need better reach and grip on the handlebar to maneuver the bike with confidence. On the other hand, the handlebar should also allow you to access the brakes and shifters with ease.
Keeping that in mind, the Haanjo Comp comes fitted with a wide and dropped handlebar. This gives better reach and allows you to maintain the perfect posture on long distance rides. The dropped handlebar also enables you to access all the components easily.
Speed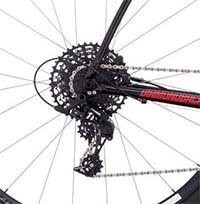 Do you enjoy riding at extreme speeds? Then this bike brings you good news. Fitted with 11-speed SRAM drivetrain, Offers plenty of gears to ride at any suitable speeds. Furthermore, the compact geometry and design will allow you to find better posture to reach the speed you desire.
The combination of right components sets this bike apart from others. The wheels, shifters, crankset, pedals, and tires all contribute to finding comfortable speeds. However, when you need to get the bike stopped immediately, you can depend on the hydraulic disc brakes to provide phenomenal stopping power.
Weight & Quality
Are you worried about the quality? Well, the bike manufacturers name would prove all your doubts wrong. Diamondback has years of experience in bike manufacturing, and they are well known for keeping the standards high. We aren't talking about a nonsense bike, after all, the brand name itself gives you a reason to make up your mind.
Coming to the weight of Haanjo Comp, the bike weighs nearly 23lbs which makes it a perfect choice even for teenagers. The lightweight design will allow beginners as well as experienced bikers to control the bike in any situations.
---
Pros & Cons
Pros
Kenda all terrain tires to cruise any terrain
Has three bottle cage mounts to store water bottles.
11-speed drivetrain offers plenty of gears to choose from.
The bike comes with carbon leg gravel-ready fork for better stability.
Comes equipped with hydraulic disc brakes for better stopping power.
The super durable Kenda tires offer better traction even on slippery roads.
The bike gives an upright riding position for a stress-free riding experience.
The frame follows endurance geometry to offer a comfortable ride even on rough terrains.
Cons
Assembling the bike might be difficult for a beginner.
The saddle is not as comfortable as it could have been.
Features at a Glance
Comes fitted with a strong and lightweight aluminum frame.
SRAM 11-speed drivetrain offers plenty of gears to find suitable speeds.
The frame follows endurance geometry for better performance on gravel roads.
Fitted with SRAM Apex 1 hydraulic disc brakes for precise braking.
Made of carbon, the fork offers better stability on tough terrains.
15mm front and 142 x 12 mm rear thru-axles provide added stiffness and better handling.
The bike comes almost assembled and is ready for use with a few easy steps.
The bike includes replaceable rear derailleur hanger.
Comes with wide handlebars for better handling.
The bike weighs around 23lbs which is lightweight.
The frame is drilled and can be fitted with fenders and racks.
Includes Kenda Flintridge 700 x 40c tires for better grip.
Comes with SRAM S350 X-sync crankset with a 44T chainring.
Buying Advice
I'd recommend this bike for anyone. However, let's face it, every bike has its flows at some part. The tires are meant for both city roads and trails, and at times you might find your bike slow on city roads. I'd tell you to go for a thinner tire to find better speeds on city roads. Anyway, it depends on the rider's preference.
I can't say the seat is remarkable; I'd recommend you swap out the seat with a new one.
FAQ & Answers
Question: 

W

hat's the exact weight of this bike?
Answer:

The bike is super lightweight, and it weighs around 23lbs.
Question: Is the bike available in any other colors rather than black?
Answer:

Not at the moment. the bike comes in black and red color combination, and it gives a premium look to the bike.
Question: Is the bike a right choice for people above 6 feet tall?
Answer:

Yes, comes in four different sizes, the rider can choose their ride depending on their height. Also, the adjustable seat post allows the rider to find perfect seating positions.
Question: Is it possible to assemble the bike with assembly manual?
Answer:

Although it might look difficult for a beginner, it's fairly easy to assemble the bike if you read the instructions carefully.
Question: What are the major components installed on this bike?
Answer:

The bike comes equipped with SRAM's components such as hydraulic brakes, shifters, and drivetrain. They are of great quality and offers long-lasting performance.
Final Verdict
Diamondback Haanjo Comp is a great choice for riders who look for adventure. It's an alternative road bike that supports rides on both city roads and gravel stretched roads. Haanjo Comp's endurance frame geometry absorbs the stresses it receives and presents you with a trouble-free ride along any rough terrains.
Added to that, made of carbon, the bikes gravel-ready fork sucks in the impacts and is designed to give you long riding comforts.
---
Related Bike Review You May Like
Updated: 2nd August, 2019