Click on the image to check the bike out on Amazon
Are you searching for an affordable road bike that's ideal for beginners?
The Giordano Libero 1.6 comes with a ton of great features that can make your riding experience exceptional. We also noticed that it's priced fairly on Amazon too, meaning it won't be a huge investment to begin biking.
If you're curious to learn more about what this bike has to offer, take a look below!
Overview of Giordano Libero 700c Mens Road Bike
| | |
| --- | --- |
| Size | One size |
| Frame | 6061 aluminum frame |
| Type | Road bike |
| Speed | 16 speed |
| Brakes | Alloy Side Pull |
| Drivetrain | Shimano Claris RD2400 |
| Rating | 9.1/10 |
| Brand | Giordano |
| Pros | Lightweight, Shimano drivetrain, Quick release |
| Cons | Lack of disc brakes, Plastic pedals |
| Summary | Great bike for entry level biker. |
| Where to buy | Check On Amazon |
Who Is the Bike Designed for ?
Those who are 5'1"-5'8" tall should pick the small size
People who are between 5'8" and 6'0" should select the medium size
If you're 6'2"-6'5", you should go with the large size
It weighs 23 lbs, meaning it's best used for improving fitness and commuting
If you need to shift quickly and smoothly, you'll benefit from the Shimano Claris shifters available
The design of the derailleurs in combination with the gears on offer means you can climb up steep inclines easier
With the sturdy and lightweight tires, you can ride over various surfaces smoothly
---
Outstanding Features of Giordano Libero 1.6 Road Bike Offers
Gears & Shifting
With 16 speeds to choose from, you can be sure to have enough options for all riding situations. The Shimano STI drivetrain works to help you shift through these gears with minimal effort. You don't have to use a lot of finger strength to use the shifters.
Considering how this is such an affordable and entry level bike, we were surprised to find that it had so many gears available.
Derailleurs
We were impressed by how the derailleurs used with this Giordano Libero bike are Shimano. The front ones are RD2300, and the rear ones are FDA050.
Shimano is a very trusted brand and provides high quality and easy to find parts. Therefore, you can be sure that this bike has excellent derailleurs already fitted.
Frame & Fork
The construction of the frame has been made using strong 6061 aluminum materials. There is also a derailleur hanger that can be detached. The frame itself has been crafted by hand.
We like how this aluminum material is effective at being resistant to corrosion. It may be prone to some scratches from general wear and tear, but its structure and strength is hard to break down.
Tensile steel materials have been used to make the fork. This steel material is incredibly strong and adds another layer of durability to the bike. Although, it does account for making the bike slightly heavier.
Handlebar & Stem
Do you want a stylish looking handlebar, without the addition of added weight?
The handlebars are made with a robust alloy which is 42cm c/c. Furthermore, the threadless stem design of this bike means that you can make changes very easily. You can center the stem without having to adjust anything concerning the handlebar.
Brakes
Customers like how the back and front brakes both have a design that means you pull them linearly to bring you to a safe stop. This braking mechanism means that you can come to emergency stops a lot faster too.
They are put together using high-grade alloy materials to boost their durability.
Wheels
The tires equipped to this bike are 700cc and come with a total of 32 spokes. As a result, you can expect the wheels to be remarkably strong. They both have an axle with quick release systems too. This makes replacing tires incredibly easy.
Saddle
Is this bike comfortable to sit on?
The seat post is black and made with alloy materials to be 27.2 x 30mm in size. As far as the actual saddle goes, it's a Velo Road steel rail one.
Therefore, you can be sure that it's fantastic at resisting damage from all kinds of weather conditions. The comfort of the saddle itself is a very individual thing for different people.
Pedals
How do the pedals fair, compared to the rest of the bike?
We found the pedals to be one of the areas where this bike struggles. The main reason for this is because they are constructed using plastic materials. Therefore, they aren't very durable and add some weight to the overall bike.
While they do have cages that are made of sturdy alloy, they can still be prone to damage.
They are serviceable but may need replacing for the more experienced riders.
Water bottle Mounts
You can use a total of two water bottle mounts when riding this Giordano bike.
Often, people have to purchase water bottle holders separately and attach them to their bike. However, they are already built into this bike. Therefore, you can stock up on water and stay hydrated for those longer rides.
---
Pros & Cons Of Giordano Libero
Pros
Very affordable price
There are three size options to choose from
16-speed gears available for precise shifting
The aluminum frame of this bike is both modern and strong
Robust wheels are fantastic for riding on rough roads
Both front and rear wheels have quick release features which make for effortless replacements
Cons
The brakes aren't as responsive as you'd hope for
The plastic materials on the pedals are weak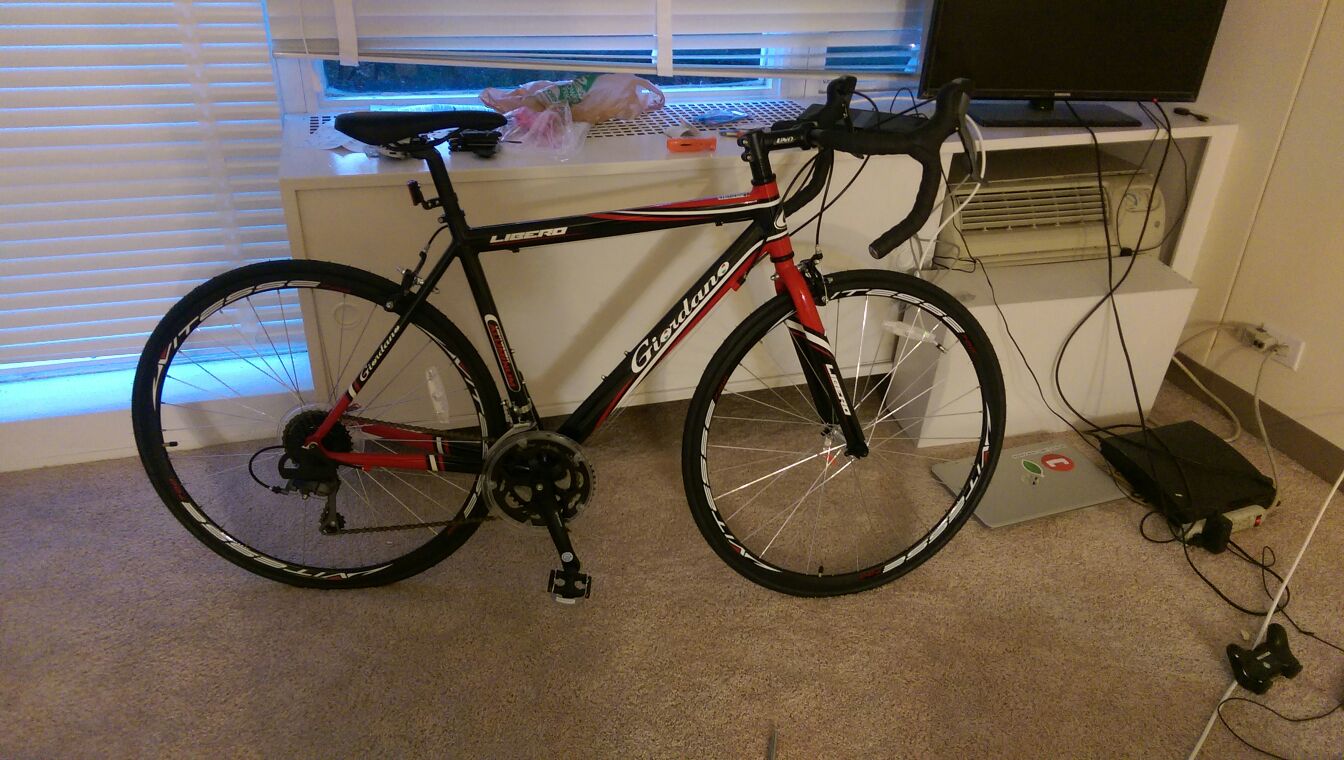 Features at a Glance
The 6061 aluminum frame is crafted by hand to be lightweight
A threadless stem is included which is 1 1/8" in size
Two built-in water bottle mounts
Shimano STI drive train 16-speed
Available in small, medium, and large
Two high profile spokes with quick release alloy rims
50-34 crank to allow for easier hill climbing
Kickstand included
Strong 700c wheels for smooth riding
Reflectors are included
The front derailleurs are Shimano RD2300
The rear derailleurs are Shimano FDA050
Buying Advice
Before purchasing this Giordano Libero 1.6 bike, you should know that it isn't delivered fully assembled.
When it arrives, you'll find that the bike is in separate pieces that you need to assemble yourself. Depending on your experience level, this could be more difficult and time-consuming that you were expecting.
The parts that you need to assemble to the frame include:
Pedals
Handlebars
Seat
Front wheel
Towards the back wheel, which is already attached to the frame, you'll be glad to know the chain is already connected.
The assembly process involves some screwing of nuts and bolts. Having said that, the only major tools that you will need are an air pump and a wrench.
It may also be a good idea to take it to a bike shop once it's assembled. They can then do a full inspection to ensure everything has been put together correctly.
Alternatively, you could also choose to simply take the bike to a shop for them to assemble for you. But that would be an added cost to take into consideration.
FAQ & Answers
Is this bike meant for men or women?
The Libero 1.6 is an ideal option for men. This is because the size and geometry of this bike would likely feel uncomfortable for women.
Can the brakes be replaced?
Since the brakes are one of the weak points about this bike, many people are wondering about whether they can be replaced. The answer is yes. Surprisingly, it's also not as expensive as you may be thinking.
Many beginners are attracted to this bike due to the price and the excellent features it has available. However, the 16-speed gears can be a little tricky to figure out in the beginning. You can find the shifters inside the area where the brake levers are.
Shifting them is easy, it may just take some time to get used to it.
Can you attach a rack to the back of this bike?
There is no area to install any kinds rack to the back of the Libero 1.6.
What's the maximum tire width you can use on this bike?
You can fit tires that have a maximum width of 25mm.
Final Verdict
Giordano is a bicycle company who has established themselves over the years.
This Libero 1.6 model, in particular, is mostly recommended for people who are completely new to cycling. If you're looking after an easy-to-use bike that doesn't require a lot of effort, this is a fantastic choice.
The construction is extremely durable and strong, so this bike can last you for years to come. We also like how the bike is designed concerning its aesthetic appeal. It looks modern and stylish while you ride it around.
If you're concerned about the assembly time, don't let that put you off. All the parts and instructions you need are provided. Even if you don't feel like putting it together yourself, you can simply take it down to a bicycle shop, and they'll take care of it for you.
All in all, this is a superb beginners bike that's available on Amazon at a very affordable price.
---
Related Article You May Like: Merax Finiss Road Bike Review
Updated: 13 August, 2019