Are you looking for a bike that you can easily take on your travels?  If so, you'll be very interested to learn more about what the Raleigh Grand Prix Bicycle has to offer.
There's a Ritchey licensed breakaway system that lets you easily disassemble the bike to make traveling less of a hassle. You can then put it back together with minimal effort.
Some of the riding features and design aspects are fantastic. Many people have said it's the, best bike they've purchased. Take a look below to find out why people are making these claims.
Overview of Raleigh Grand Prix Vintage Road Bike
| | |
| --- | --- |
| Frame Size | 52 CM / 54 CM / 56 CM / 58 CM / 60 CM / 62 CM |
| Frame Material | Butted Chromoly Ritchey Licensed Break-Away |
| Bike Type | Road Bike |
| Speed | 10 Speeds |
| Brakes | Promax Custom Caliper Brake |
| Drivetrain | Campagnolo Veloce |
| Editor Rating | 8.3/10 |
| Brand | Raliegh |
| Pros | Lgihtweight Chromoly Frame, Classic Design, Fit in a Travel Bag, 28mm Tires |
| Cons | Handlebar may short for some |
| Summary | Great vintage look road bike for touring, commuting & travelling. |
| Where to Buy | Check On Amazon |
Who Is the Bike Designed for & Suggested Sizing?
The fact that you can compact this bike down and fit it into a case for traveling is the biggest feature, which makes it awesome for travelers
With a Campagnolo drivetrain, you can feel assured in knowing that you can ride at some high speeds
The wheels are coated with a Kenda rubber material which provides you with ultimate control over all kinds of surfaces
You can ride for long periods while feeling completely comfortable due to the soft seat available
It weighs 21.95 lbs, meaning you can ride it around at faster speeds and not have to worry about using a lot of energy to maneuver the bicycle
---
Features Details of Raleigh Bicycles Grand Prix Road Bike
Travel Design
When you take a quick look at this bike, nothing stands out (aside from the retro design). However, once you start to examine the bike in more detail, you'll quickly realize that it was made for travelers.
There are clamps attached to the double seat post, as well as a downtube near the bracket at the bottom that has a small collar.
These are the main areas where you can dismantle the bike, piece by piece. What's the benefit of this?
Well, it means you can easily take the bike apart and put it inside of the provided travel case for flights and long journeys. All you need are Allen wrenches to disassemble and reassemble it for riding.
We appreciated how the travel case that's included is small enough to avoid having to pay extra baggage fees too.
Construction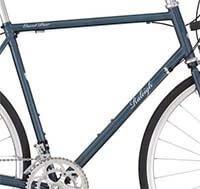 The Grand Prix bike is manufactured using a strong Chromoly frame. As a result, it provides you with stability while riding, as well as a peace of mind in knowing that it will last you for a while too.
For some, the weight of 21.95 lbs may be a little heavy. But others find that balance of a strong frame and moderately lightweight bike to be excellent.
Brakes
The braking system built-in to this bike uses a long-reach design. Therefore, it will suit people who have larger hands as it provides them with a better grip.
Promax brakes are what this bike utilizes to bring you to safe stops. They have been specifically designed to fit the retro aesthetic appeal of the entire bike.
Wheels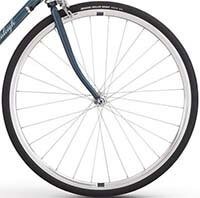 While riding this Raleigh bike, you'll notice that the amount of control you have is fantastic. This is a result of the tires which have been coated with a Kenda rubber material.
This material is what provides you with such great cornering and handling abilities.
Handlebars
The handlebars have a drop-down design, which means they're a little lower than you may be expecting.
Aluminum materials have been used to construct these handlebars. So, you can be assured that they are extremely durable against damage and weather. They also look great too.
Gears & Shifting
There is a total of 10 different gears that you can choose from. Subsequently, you can ride in various conditions and select the appropriate gear to make the riding feel effortless.
You can shift through these ten gears by using the Campagnolo Veloce speed shifter. This lets you smoothly transition between gears consistently.
Seat
Many customers love how they can use this bike for long rides. One of the main reasons as to why people can ride comfortably for so long is due to the seat and seat post.
The saddle itself is made with soft materials to ensure any pains are avoided. This seat is supported by a Raleigh 100 series classic road saddle. It's 27.2 x 300mm in size.
---
Pros & Cons
Pros
Easy to disassemble for traveling
Stiff feeling provides added durability
Comfortable saddle for hours of riding
Rubber encased Kenda rubber for precise turning
Ergopower shifter by Campagnolo to shift 10 speed smoothly
Change gears smoothly with the Campagnolo Veloce drivetrain
Weinmann Double Wall 23mm wide rim with Kenda Kwick Roller 28c tire
The overall design of this bike gives off a classic feel which has a fantastic aesthetic appeal
The 520 butted chromoly steel frame is both durable and lightweight, which allows you to ride for long duration with control
Cons
The short-drop design of the handlebars may feel too short for some
Grand Prix Features at a Glance
The frame is a Reynolds 520 Butted Chromoly Ritchey licenses break away
You get to use flat crown lugged 4130 Chromoly road forks that has a long reach brake
The headset available is an FSA Orbit UF
The front and rear derailleur, as well as the shifter, are Campagnolo Veloce
With the shifter and cog-set, you can use Campagnolo Veloce 10-speed shifting and functions
The front & rear hub uses Joytech Alloy 24h & 28h bearing that has been sealed
Double butted stainless spokes are implemented which are 14/15 g MAC
Weinmann Momentum SL rims are built-in which are double-walled and have a width of 23mm
The tires are Kenda Kwick Roller Sports and have a folding bead design
You can use Promax dual pivot breaks that have a long reach for easy use
The pedals included are test ones and will need replacing
Short drop 200 series handlebars are in front of you, by Raleigh
The seat is a Raleigh Classic road, and the seat post is a Raleigh 100 series (27.2 x 300mm in size)
A travel bag, rack and fender mounts are also included
FAQ & Answers
Question: Does it come with pedals?
Answer:

Yes, it comes with test pedals that should be replaced for better riding.
Question: Is the bike meant for men and women?
Answer:

The geometry of the bike means both men and women can use it.
Question: What is it best used for?
Answer:

Due to its versatile nature, it can be used for anything from mountain biking to sprints. However, the most common ways people use it are to commute and race.
Question:
What drivetrain used on Grand Prix bicycle?
Answer:
This bike comes with Campagnolo Veloce drivetrain which is great for long rides.
Question:
What tires used on this bicycle?
Answer:
The bike used Kenda 700x28c high quality tire
Buying Advice
Unfortunately, the pedals that come with this bike are test ones. Therefore, we recommend that you change them to more suitable ones.
This is something that people who know about bikes will have a good idea about. However, this alteration isn't something that's advertised. So, people who are completely new to biking may wonder why the pedaling doesn't feel as great as they expected.
The position of the handlebars is fairly low too. For many people, they prefer this riding position. However, you should be aware of this feature as it may feel more uncomfortable for you than others.
If you don't like how it feels, you may also need to look into replacements for it. But again, they may work well for many people, so it comes down to personal preference.
In addition to that, the Campagnolo parts of the bike aren't as easy to replace, compared to Shimano parts. Therefore, some customers go as far as to switch out the Campagnolo parts for Shimano ones so that if anything does go wrong, they can replace the parts with less hassle.
Final Verdict
The Raleigh Grand Prix is considered to be an entry level bike. However, the number of features on offer that work to enhance your riding experience has impressed us.
Many customers are surprised to find just how stiff this bike feels to ride. This is a huge benefit as it provides a lot of stability. The shock absorbing aspects also work incredibly well for a smooth ride.
The fact that you can dismantle this bike so easily, with the use of some basic tools, is a big draw for people. It means that you can put the parts inside the provided travel bag and take the bike with you on your journeys.
When you take into account the price of this bike, and how much it can improve your riding experience, you'll notice that you can't go wrong. If you're not into the retro look, this isn't the bike for you.
Hopefully, our review has provided you with some valuable insights into the Grand Prix bike. Be sure to weigh up all the features, pros, and cons to help you make the best decision possible.
---
Related Article: Road Bike under $2000 Guides & Review in 2019
Last Updated: 3rd August, 2019