Are you looking to hit the road but don't want to spend a fortune? The Vilano Shadow 2.0 Road Bike is the best value for your everyday needs of commuting, keeping up with friends on social rides, or taking your fitness goals to the next level.
At first glance, the Vilano's Shadow sleek design is high quality, and you will be hard-pressed to find anything else like it on the market.
I found the affordability of this bike cannot be matched to the quality and reliability. This is a great choice for a beginner ride, especially if you are looking to pursue a more active lifestyle but don't want to break the break doing it!
Overview of Vilano Shadow 2.0 – Shimano STI Integrated Shifters
Size
49cm / 53cm / 57cm
Frame
Butted Aluminum Frame
Type
Road Bike
Speed
14 Speed with

 Shifter

Brakes
Dual Pivot Alloy Caliper

Wheel set

700c double walled CNC Machined Side
Rating
8.7/10
Brand
Vilano Bikes
Pros
Shimano STI Integrated Shifter, Shimano derailleur, Doubled Walled Rim
Cons
Assembly and Tuning Required, Cheap pedals, Uncomfortable seat
Summary
Great road bike for commuting, exercise / fitness, or club rides
Where to buy
Check On Amazon
The Advantage of the bike
Affordability: Don't let the price fool you, the components and the frame are impressive for the amount of money spent on this bike.
Versatility: The Shadow Road Bike is designed for the everyday life of daily commuters, beginner cyclists, and club rides.
Performance: Are you looking to take fitness to the next level? The Shadow Road is a great fit as it's lightweight and it's fourteen speeds will give you an advantage on the open road.
Smooth Ride: The durability of the lightweight frame absorbs the shock of the road, providing you the most comfortable ride.
Simple Assembly: You can't beat a bike that comes partially assembled, making it easy to put together the basic components such as pedals, handlebars and the front wheel.
---
Features Review of Vilano Shadow Road Bike
Brakes and Gears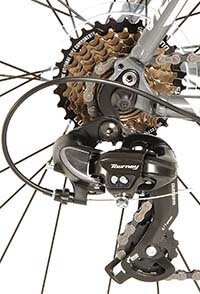 The most distinguished feature of the Shadow Road Bike is the Shimano STI integrated brakes and shifters, which are composed of a convenient single unit and make for easy accessibility and more precise, controllable braking.
When it comes to road bikes, it is important to have quick and accurate shifting at your fingertips for best performance and control.
This will give you a stronger advantage on the road, especially if you are training for a race or riding in a pack.
While there are only fourteen speeds designed for the handling the road, this is more than enough for the standard commute or recreational use.
You will be able to keep up with your friends on social rides with great versatility and performance.
If you find that the gearing is too stiff, take it to a local bike shop for a quick tune.
Wheels and Tires
Outfitted with the 700c double-walled CNC alloy machined side wheelset, the Shadow is constructed for reliability and resistance to road damage.
The wheelset is large and will sustain the impact of the road vibration. As a result, you will have a smooth ride on most road conditions.
The last thing you want to happen on the road is the inconvenience of flat tires, leaving you stranded without the right equipment (especially when you are new to riding.)
The tires are the standard 700c x 25c set. Be sure to pump the tires to 110 PSI, as stated by the manufacturer.
The wheelset and tires are durable, giving you further confidence on your long rides.
Handlebars
The handlebars are made of alloy, adding to the lightweight features of this bike. You can reach the shifters with ease, even when in the drop bars which will give you less resistance will riding.
The handlebar tape tends to wear easily and unravel, especially if you are riding fairly often. This is an easy upgrade and one that your local bike shop can help assist you in taping.
You can also add fun colors to the standard black or white paint of the slick look for the Shadow Road Bike.
Suggested Sizing
For an enjoyable ride, it's important to be comfortable so you will need to have the best fit for you and your bike.
There are three sizes available with the Vilano Road Bike: Small (50 cm), Medium (54 cm) and Large (58 cm). Be sure to refer to a bike sizing chart with both your height and leg length, to have the best "fit" for your ride.
If you are unsure of your size, head to your local bike shop and ask if they can give you a quick fit.
This is highly important when buying your bike and will save you a ton of money in the end.
Once you have your proper size, you will want to be sure to adjust your seat height for a customized fit.
This will make a world of difference, especially if you plan to spend many long miles on your bike, whether city commuting or training for your next big race.
Smooth riding
While this lightweight frame is made of aluminum and weighs in at about twenty-three pounds, it is still sturdy and solid enough to absorb the vibration of the road.
Along with the wheelset, the double butted 6061 aluminum aero frame is durable and will hold up as you gain speed going downhill.
The drop bars on the handlebars are also helpful to help give you the aerodynamic ride; you may be looking to get.
Urban riding can make for a lot of uneven terrain and countless pot-holes, you will find the Shadow road bike was designed with the budget conscious commuter in mind.
Unique Features
First of all, I'm a big fan of this bike because of it was simple and easy to assemble. I was worried that I would open the box and find a long list of IKEA-like instructions, leaving me frustrated.
I was pleasantly surprised that it was an incredibly intuitive process and there was even video instruction if needed. It took thirty minutes to assemble and I was able to hit the road quickly because of it!
Benefits and Drawbacks
It is rare to find an entry level road bike that combines functionality, component quality and budget price in a single product.
The Shadow Road Bike will be a dependable ride to keep you regularly ride.
As you spend more time on your bike, you will find that you will want to upgrade some of the parts such as the saddle or the pedals.
These are small modifications compared to the higher quality mechanics found in the overall quality bike components of the Shimano shifters, derailleurs, and frame.
Regularly tuning up your bike with keeping your bike is crucial in the long life of your bike.
---
Pros & Cons of Vilano Road Bike
Pros
Doublewall alloy wheels for easy controlling.
Great road bike for burning calories & get fit.
Comes at affordable price tag for beginner road biker
Shimano STI integrated shifters with fourteen speeds
Quick Assembly, which made it easy to get out on the road faster
The lightweight frame will you give speed and versatility, while still giving you a smooth ride on any terrain
Cons
Cheapest pedals, better to change
Just like any bike seat, it takes time to get used to the comfort of the saddle
The bike comes with rubber rim tape instead of cloth rim tape. As a result, the inner tube is easily vulnerable. Easy fix!
FAQ's & Answer
Question: Is this bike assembled?
Answer: No, but it does come with the cables attached. You must put them on the basic components of the pedals, handlebars and front wheel. This is an excellent opportunity to get to know your new bike and the fundamentals of bike mechanics.
Question: Is this bike durable enough for a sprint triathlon?
Answer: Yes! It is a great bike to train with and will lightweight and fast to keep up with the pack.
Question: Is this bike appropriate for a woman?
Answer: Yes. Depending on height and leg length, this bike fits both men and women equally well.
Technical Features at a Glance
Frame: Equipped with 6061 Double-Butted Aluminum
Fork: This bike has 700c 1 1/8″ Threadless Fork
Speeds: 14 speed to move faster on the road
Shifters: Shimano A070 STI Integrated shifter with Brake Lever
Front & Rear Derailleur: Both derailleur by Shimano
Crankset: Alloy Double Crankset
Rims & Tires: 700c Doubled Walled CNC Alloy Machined Sides with 25c CST tire.
Chain: KMC chain to cover 14 speed
Brakes: Dual Pivot Alloy Caliper brake for instant stopping power
Handlebar: Aluminium alloy Drop bar handlebar
Weoght: The Vilano bike weighs about 25 lbs
Saddle: 27.2mm Adjustable Seat post with Comfort Saddle
Buying Advice
Its a great road bike to have on your daily ride. While you plan to purchase please do some upgrade for better performance & comfortable ride.
Replace the installed pedal with new one as the existing one is cheap in quality. Upgrade to cloth rim tape instead of rubber rim tape to save inner tube.
I think all of this will cost you some dollars but you will get a enjoyable ride from this bike for long time.
Final verdict
In the end, this bike is one of the best road bike under $500. It is too hard to beat for the money and will be a great addition your lifestyle needs.
This well-built bike is a great value to get you out on the road to best serve your fitness goals or commuting around the city.
---
Alternative Bikes You May Like
Updated: 14 th August, 2019